Front Cartridges ORSS KTM/HVA WP AER43 SX/TC 85 2018-2020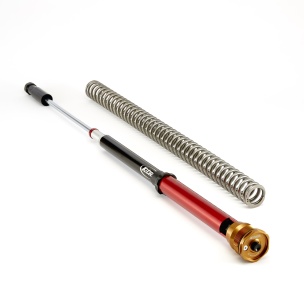 Pris:
4 995 kr
Inkl. 25% Moms
Art.nr:
P1715524
Antal:
K-Tech Off Road Spring System (ORSS)
At K-Tech we are excited to announce our new "Air2Spring" system. The new Off Road Spring System (ORSS) is now available for the WP (AER) and Showa (SAFF / TAC) front forks fitted to the Honda, Kawasaki, KTM and Suzuki off road motorcycles.
The ORSS replaces the Air Spring system with a conventional spring system that can be set to the riders weight and riding style and eliminate the stiction (friction in direction change) created by the high air pressure of these air systems, while less complication to calculate the optimum balance of pressures on these AIR systems by WP and Showa.
As with all K-Tech manufactured products the ORSS are made of our high quality designs and materials, it will not only improve the handling and stability of the motorcycle but also have that "Factory" desired look.
The ORSS conversion kit is simply ready to install, easy to set up and will stay consistent in the feedback from the front forks. The Original fork remains fully adjustable in compression and Rebound damping but with the ORSS it provides external spring preload adjustment for the optimum in fine-tuning from hard pack to sand conditions.


Please note to use KT385-580-XX SFF springs according to weight.